Offer accommodation units
Sorry, but for chosen date range and number of persons we cannot offer accommodation for this object.
Contents
Smoking is allowed
Accommodate children
Object has heating
Free WiFi
Air conditioner
Parking available
Pets allowed
Nearby
Shopping and Foods
Restaurant

Restoran Vidikovac (500m)
Restoran Župan (500m)
Restoran Zelengora (300m)

Caffee Bar
Store
Market

Zelena pijaca Sokobanja (500m)
Interesting locations
Mountain

planina Ozren (5km)
planina Rtanj (25km)

Lake
River
Park

Centralni gradski park (250m)
park Banjica (300m)
Activities
Pool

Velnes centar Soko Terme (500m)

Aquapark
Reviews
8.4 / 10
Service
8.5/10
Cleanliness
7.8/10
Sleep quality
8.3/10
Location
8.8/10
Rooms
8.1/10
Kindness of staff
9.3/10
Dunja Stojkovic, Saturday, 16 September 2023, Apartment Andjela
6.0 / 10
Nada, Wednesday, 28 June 2023, apartment Soko Luks
Veoma smo zadovoljni smestajem kod ovih divnih ljudi.
9.3 / 10
Danijel Korac, Saturday, 4 February 2023, Apartment Andjela
4.3 / 10
Objektivna, Sunday, 10 April 2022, Studio Mango
Zadovoljavajuce, moglo bi bolje
6.8 / 10
Svetlana Filic, Monday, 28 February 2022, Studio Oranž
Super!
8.8 / 10
Ivana Vasić, Tuesday, 15 February 2022, Studio Mango
Odlicna lokacija. Dobro grejanje. Sve pohvale za ljubaznost vlasnika.
10.0 / 10
Marko Milutinovic, Wednesday, 2 February 2022, Studio Oranž
Sve je bilo bolje nego sto smo ocekivali. Domacini su usluzni i ljubazni. Smestaj je odlican, blizu setalista i cist. Preporucujem svima.
9.5 / 10
ALEKSANDAR CHOCHEVSKI, Saturday, 20 November 2021, apartment Soko Luks
8.0 / 10
Aleksa Djordjevic, Friday, 5 November 2021, Apartment Andjela
10.0 / 10
Stefan, Friday, 5 November 2021, Studio Mango
Izvanredni apartman, oduševilo me je osoblje sve u svemu izvanredno.
10.0 / 10
Mrva90, Sunday, 8 November 2020, Studio Mango
8.5 / 10
Aleksandar Patai, Sunday, 19 July 2020, Studio Oranž
Brz i lak dogovor, stanodavci odgovorni, ljubazni i korektni. Odlicna komunikacija, jos bolja saradnja. Smestaj i lokacija na visokom nivou. Sve pohvale i svaka preporuka...
10.0 / 10
Apartments Nikodijevic Sokobanja
Apartments Nikodijevic in Sokobanja are located in a beautiful location about a hundred meters from the center of the promenade. We offer two apartments and two studios.
Need help?
We will be more than happy to assist you! Our team will answer your calls every working day from 9 am to 5 pm and Saturday 9 am to 2 pm.
Nearby objects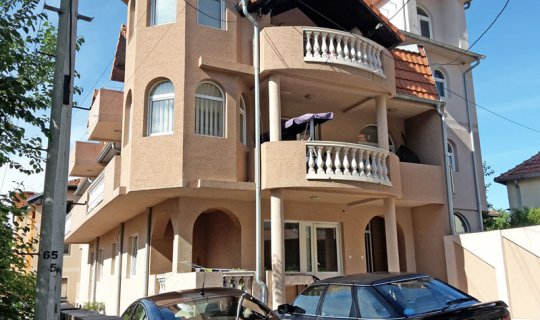 Why book with us?
Several thousands of accommodation objects